ABOUT
SCHEDULING INSTITUTE
Scheduling Institute exists to transform private practices into thriving businesses that generate a lifetime of revenue. We were founded by Jay Geier who 25 years ago discovered a huge blind spot that exists in nearly every practice, that when fixed can catapult a practice to the next level of success. Since that time, we have developed the proven tools to help your practice operate at its highest potential. We believe in creating an environment with happy employees who have a patient-first focus. Our specially designed seminars, classes, and on-site training are geared toward empowering your team with the knowledge and confidence they need to enrich the experience your patients will receive. Scheduling Institute will protect the equity you have worked so hard to develop and will fight for your success. With our world headquarters located in Alpharetta, GA, and Leadership Institutes in Atlanta, GA, and Phoenix, AZ, the Scheduling Institute team is ready to serve our members across the country. Start your journey to a thriving and profitable business today!
AS SEEN

IN MANY PUBLICATIONS
17X

TOWNIE CHOICE AWARDS

WINNER

Every year, Dentaltown and Orthotown subscribers vote for their favorite products, services, and equipment – the elements that make their lives easier, their practices more productive, and their team and patients happier.


We are proud to say that Scheduling Institute has been voted #1 in the category of Practice Management by our clients for the past 11 consecutive years for Dentaltown's Townie Choice Awards, and 6 times over the past 10 years for Orthotown's Townie Choice Awards. Through our clients engagement in our Coaching Programs, in-office on-site trainings, private events, and specialized member content our clients continue to see exponential growth both personally and professionally.
IMPACT & MISSIONS
SUCCESS IS ABOUT MORE THAN MONEY OR RECOGNITION. IT'S ABOUT IMPACT.
OUR GOAL IS TO HAVE

1,000 CLIENTS NETTING AT LEAST $1 MILLION PER YEAR

— AND EACH GIVING 10% TO OTHERS IN NEED
At Scheduling Institute, helping practices become more successful and maximize earnings is just the beginning. We believe real success involves finding purpose and fulfillment by serving others. Scheduling Institute helps clients achieve a level of financial freedom where money isn't much of a worry anymore. Then, we help them use their own success to give and spread positive impact by providing connections with trusted non-profit partners. We are one of the largest referrals to Dentistry From The Heart and World Mission Partners. Scheduling Institute sponsors doctors, their teams and our own team members on mission trips to Costa Rica and Dominican Republic through World Mission Partners. Since 2014, 85 doctors and 225 team members have treated 3,482 patients through World Mission Partners, and many doctors have made their own intentional impact on these communities. Two Scheduling Institute clients teamed up to purchase a new mobile dental clinic in The Dominican Republic – and Jay and many Scheduling Institute clients contributed to build a new, state of the art dental clinic in La Romana, Dominican Republic. These are just a few of the ongoing acts of generosity that Scheduling Institute and our clients have completed together.
GIVING

IS AT THE CORE OF

"THE S.I. WAY"

Our team believes in reinvesting and creating impact in the communities in which we live. With more than 150 team members living all around the country, we get the opportunity to do a lot of good for a lot of people. We raise money together. We built a Habitat for Humanity house together. We've donated a total of 1,960 Operation Christmas child boxes to Samaritan's Purse over the last three years. And for the past five years we've partnered with Bright Futures of Atlanta to host events for their middle and high school students and provide them with gifts at Christmas time – just to name a few things. We give and serve as a team and as individuals, but what unites us is our love for helping people in need. Likewise, we encourage clients to find meaningful ways to give in their own communities.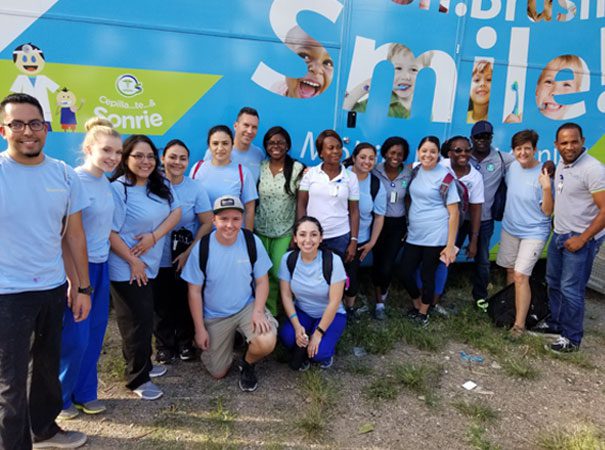 WHAT INDUSTRY LEADERS HAVE TO SAY ABOUT
JAY GEIER AND SCHEDULING INSTITUTE
JAY UNDERSTANDS HOW TO
BUILD A PRACTICE BETTER
THAN ANYONE I'VE SEEN.
Dr. Robert Cialdini
The "Godfather" of Influence,
President & CEO of Influence at Work
IT'S AMAZING WHAT
JAY HAS DONE WITH MY OFFICE.
Dr. Howard Farran
Founder and Owner
of Dentaltown
JAY IS THIS
GENERATION'S #1
THOUGHT LEADER.
Dr. David Ahearn
Founder and Owner
of Design Ergonomics
JAY IS A FORCE
OF NATURE.
Joe Calloway
Author, Speaker, and
Consultant for Coke,
Delta, AmEx an more
SI IS AN EXCITING
PLACE TO BE!
Joseph Michelli
Author of The Starbucks
Experience and other best
sellersmore
SCHEDULING
INSTITUTE
IS WORLD CLASS!
Dr. Randy Ross
Bestselling Author
CEO of Remarkable!
TAKE THE
5-STAR CHALLENGE
Take the 5 Star Challenge today to find out how your practice ranks amongst the most patient centric practices in the country. Along with your results, you'll also receive the solution to dramatically increasing the results of your marketing, new patients and top-line revenue, with no additional advertising.
SCHEDULE A DISCOVERY

CALL

.
Not every practice is the same and not every doctor has the same needs. If you would like to schedule a one-on-one call with one of our specialists, please feel free to use our scheduling tool and schedule a personal session with one of our Practice Growth Advocates.
On this podcast you'll find a mix of episode topics, ranging from Marketing and Human Capital to Financial Discipline, Clinical Duplication and Space & Equipment. While clinical competency is a requirement, being well versed in business strategy is what will amplify your income and change the direction of your practice by choice
Have our team take a deep look at your front desk process free of charge. Best case scenario, we'll wind up working together. Worst case scenario, we'll give you and your team some actionable insights that you can implement in your practice to increase efficiency and production.